Feb, 28, 2018
Comments Off

on Service Dog Training
I'm often asked about service dog training.
Over the years I have watched as more and more dog owners try to manipulate our "service dog" regulations. What do I mean by this statement you may ask?  Well every month I receive a few calls from people that own dogs and they ask me if I can certify their dog to be a "service dog". They think it would be nice to have a service dog.  However shortly  after I start talking with them I soon learn that all they really want is their dog to be able to go with them on an airplane or walk through stores with them. They do not need the dog to conduct any tasks or help them in anyway. Or some want the dog to be an emotional support dog however once you understand the ADA rules you'll learn that emotional support dogs are not considered Service Dogs.
What they don't realize is this hurts the people that actually need service dogs every day to survive. Service dogs are uniquely trained  and it takes hard work and lots of time to get a service dog to the point of being good at their job. They save people's lives and help them stay alive in many cases by warning them or helping them in one way or another.
For people to haphazardly think they can create a service dog for reason of convenience is dangerous and reckless. The clients I work with have a written order from their doctor that states that they need a service dog. This prescription says nothing of the persons condition but simply states that this person is being prescribed a service dog. I work with a handful of clients that have disabilities and their dogs work hard to help them stay safe.
I am not a service dog trainer in the traditional way  however I work with dogs that may have a few issues that are holding them back from becoming a service dog. Issues such as being afraid of going in an elevator or going up and down stairs. Once we get the dog past the issues they are having, they are now free to help people live a better life.
Click this link to go over the Laws pertaining to service dogs and Service Animals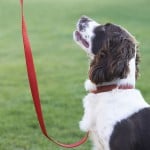 To see Dog Training Mobile's google reviews click here
Gerard Raneri: 520-440-8848 | Email
---
Please include your zip code when emailing us for exact rates.