Jun, 27, 2018
Comments Off

on Dog Safety Tips for Our Tucson Summer Challenges
 Summer is Here Again!
 During our summer months here in the Sonoran Desert we have lots to be aware of in keeping our dogs safe and secure. 
And that means July 4

th

fireworks, monsoons, kids out of school and pestering the family dog (and you), rattlesnakes, and extreme heat (as if you need to be reminded….). Dog Safety Tips To Overcome Our Tucson Summer Challenges.
Over the years, I've written extensively about each of these topics in relation to your dog's safety and well-being. Here are some of the most common issues I hear from clients and friends, with links to my tips in the related blog post. 
July 4th can be very difficult for some dogs, tips to help them feel safe. July 4th dog safety Tips  

Sometimes our dog growls when the kids play inside the house on super-hot days, but he's never bitten anyone.  Is your dog growling at people or dog?
The Monsoons can be scary for some of our dogs.    Monsoon Dog Training Tips.    
Is it okay to let my dog sniff around bushes and rock piles on our walks? Keep Your Dog safe from snakes. 
 As always, feel free to call me with your canine-related questions, concerns, and referrals.  As Tucson's most reliable "family dog   trainer," my goal is to help you find and maintain balance and harmony in your pack/family.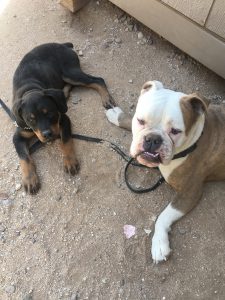 Dog Training Mobile –
Gerard Raneri –
520-440-8848
Family Dog Trainer/Behavior Modification
Leadership without force, in-home dog training—I come to you!
Gerard Raneri: 520-440-8848 | Email
---
Please include your zip code when emailing us for exact rates.