Dec, 26, 2017
Comments Off

on You & Your Dog Starting 2018 on the Right Paw
Tips for Starting 2018 on the Right Paw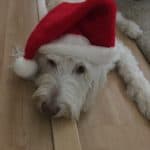 Hooray for the holidays! A time for relaxing and making merry with family and friends. If you're planning to make some lifestyle changes in the   year ahead (such as "eat less and move more!"), be sure to keep "that special       someone" in mind: your dog! Your faithful dog deserves your     loving care in ensuring his good health that will benefit his   mind, body and   spirit.
                                           Here are a few ideas to help you get the new year started off on the right paw:
First, as you hang your 2018 calendar, take time now to schedule your dog's annual wellness exam with your veterinarian.
The best gift we can give one another is our time – and this goes for our  dogs (pets), too. Think about how you can make more time for your dog by doing fun activities — playing ball, grooming, training, going on walks, or just enjoying quiet time together for pats and snuggles.
If exercise is on your 2018 to-do list, who better than your dog to accompany you on a new walking program? Before starting, however, check with your dog's veterinarian (as well as your own physician), especially if you and your dog haven't been very active recently. Begin slowly—for example, take a few 10-15-minute walks at least 4 days per week. Then gradually increase your time, speed and distance. You'll both benefit from the exercise and time together. Always start off slow, remember our dogs get sore too!
Dog Training will help you enjoy your dog even more. Knowing your dog's unique temperament and behavioral tendencies will help you better control how he acts. A well-behaved dog will generally be calmer and more relaxed. And no excuses — that old saying "You can't teach an old dog new tricks" is simply NOT true. It's never too late to begin training. Eager to get started? Give me a call today!
Happy New Year!
Rate your dogs behaviour! Free Behavior Quiz
Gerard Raneri: 520-440-8848 | Email
---
Please include your zip code when emailing us for exact rates.