Dec, 10, 2017
Comments Off

on Keeping Your Dog Safe this Christmas
Tis The Season!
It's that time of year again, Merry Christmas! Keeping our dogs safe during the holidays may not be in the forefront of your mind. However, our dogs need us to look out for them even more so during the holidays.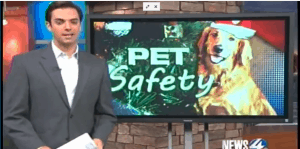 There are so many things to consider… dogs can get into food that can make them sick, get into Christmas  ornaments; the list goes on and on. If you're having a party this year, take some time to make sure your dog has a safe place to go if he or she feels stressed such as a crate or a room that he or she can go to and relax and feel safe. Be sure your dog can't get into the garbage, cooked bones can really hurt your dog. Always be sure your dogs have their tags on. With guests coming and going, the door can be left open and your dog will take advantage of that. Most dogs love roaming free and without tags on,  you might have a hard time trying to find your dog.
If you need gift ideas for your dog, Kong products are a great option. The Kong Wobbler is a good toy and the Buster Food Cube is also good, both give dogs a challenge. YouTube has videos of dogs playing with both toys.  
You know how to reach me if you have any questions or need help.
Please, take a look at the video below for some quick tips to help your dogs stay safe.  Check out one of my long time clients "Judy" and her two dogs, Sidney the Rottweiler 
and Amber, she's a mix breed. Both are wonderful dogs, I'm sure you'll agree…  take a look! 
Merry Christmas and Happy New Year!
Gerard Raneri: 520-440-8848 | Email
---
Please include your zip code when emailing us for exact rates.