Jan, 17, 2017
Comments Off

on 3 Australian Shepherds were out of control.
We have three Australian Shepherds (1 is 14 months, 2 are 12 months old) that were out of control.
My husband and I would say "they make you laugh but at the same time you want to cry". I finally said enough and started looking for dog trainers on the internet. I came across the Dog Training Mobile site and liked what I read about Gerard. I also like the fact that he came to your house and worked with the dogs in their environment. I contacted Gerard and made our first appointment. Now the only thing I had to do was tell my husband I had hired a dog trainer.

Before our first appointment my husband was not completely on board with hiring a trainer. After our first appointment, he thought it was the best thing we could have done. Gerard came to our home and and explained his philosophy and methods of dog training. One of the things that made an impression on my husband was while he was talking to us he was observing the dogs and their behavior.
Each dog has very different personalities. Gerard was able to hone in on each of their personalities and determine what would work best with each dog. What worked on one dog did not necessarily work on another. Gerard worked with each dog individually as well as in a pack setting. I will say that he did train my husband and me how to work with our dogs. This way we are in control not the dogs.
After each lesson, Gerard let us know what we should work on during the week with our dogs. Daily we would see improvement in their behavior. Even when Gerard is not physically with you he is always available if you need him. He would check in with us to see how the week's training homework was progressing.

We could not have asked for a better trainer. His friendly, easygoing manner put us and our dogs at ease. Training three dogs at once is not easy but he made it look that way. We understand now that consistency and practice is the key. They are by no means perfect but with consistency, practice and patience they improve each day all thanks to Gerard and the methods he taught us how to use.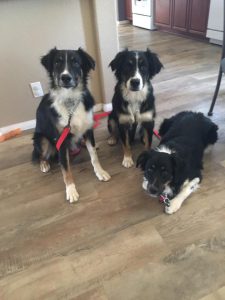 Gerard Raneri: 520-440-8848 | Email
---
Please include your zip code when emailing us for exact rates.