Oct, 16, 2015
Comments Off

on Dogs & Halloween Parties
Is your dog a good fit for a Halloween costume party?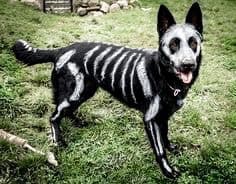 Halloween Canine Costume Contests: Should You or Shouldn't You?
Halloween has become such a fun holiday for people of all ages — and their pets! Many dog owners enjoy dressing their pet in a funny costume and then entering him in a contest or attending a party or parade with their decked-out doggie in tow.
But before you sign the entry form, ask yourself if this is a good idea for your dog. While most dogs have a temperament that is well-suited for enjoying social events, some dogs are simply not appropriate for it. This post is for those of you who are unsure about how your dog may handle the excitement of a party atmosphere.
Start the decision process by honestly answering the following questions.
Does your dog ever display aggression in any way? Is he ever fearful, nervous, shy or even dominant around other dogs?

Has your dog ever bitten you or another person or dog?

Is your dog well socialized? Has he been around children and large crowds of strangers and other dogs before?

Will your dog obey your commands, even with distractions?

Is your dog up to date on all shots? Do you always make sure he wears ID tags wherever he goes, or is microchipped?

Does your personal insurance policy cover your dog in the event he bites or harms another person or dog?
If you answered NO to both #1 and #2, and YES to all questions #3-6, then you and your dog can get ready to party. But if any of your answers are otherwise, then you would be prudent to leave your dog at home.
Knowing your dog's temperament and his ability to follow your commands paints only part of the picture as to his suitability for social events. A Halloween party (or any other party, for that matter) is not the time or place to begin socializing your dog. Rather, training your dog to feel comfortable in new places and with new situations should begin well beforehand.
If this post spurs you to take steps to start socializing your dog, then I commend you! Just remember to do so slowly and thoughtfully to ensure overall success.
Watch this space for my next post about how to socialize your dog successfully. Then you can begin making plans to enter your dog in that costume contest next year! 
Gerard Raneri: 520-440-8848 | Email
---
Please include your zip code when emailing us for exact rates.